Essentially WebDialog is an ASP.NET control for displaying dialogs inside the browser window. It allows developers to display dialogs when, where and how they want to without all the current browser restrictions.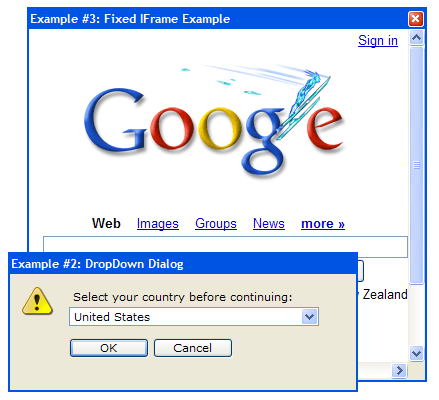 A couple of WebDialog examples
Features
Anyone who has built rich web sites will know that there are a lot of problems around the area of displaying dialogs. Aggressive popup blockers, no cross platform compatible modal dialogs and simplistic, inflexible confirmation and alert popups all limit what a developer can do when creating a UI. WebDialog is designed to solve many of these issues:
Display user friendly dialogs inside the browser window.
Display dialogs and popups where and when you want.
Cross-browser support.
Powerful, yet easy to use.
Can create splash screens, confirmations, ad popups, modal dialogs and more!
Coming Soon
WebDialog is not quite ready to be released but it should be available within the next few weeks. In the mean time I have put it's webpage up here. The webpage goes into detail on some of the features mentioned above as well as having more screenshots, a quickstart guide on how it to use it within ASP.NET and some online demos to try out.